Aman has once again set a gold standard for luxury hotels. With the opening of their fourth property in China, Aman has combined cultural and ecological history to present the Amanyangyun Hotel. The story of this hotel reaches back over a decade, beginning with the relocation, brick by brick, of ancient Ming and Qing dynasty villas. These ancient villas have been restored to their original purpose as luxury suites. The ancient stonework blends with contemporaray wood work to create a space of quiet and comfort. The hotel is surrounded by a Camphor forest, a grove of over 10,000 trees that were relocated along with the villas. The Amanyangyun is so much more than just a resort, it showcases visions of ancient china, from its restored villas to its surrounding forests, and allows guests to travel back to a different time.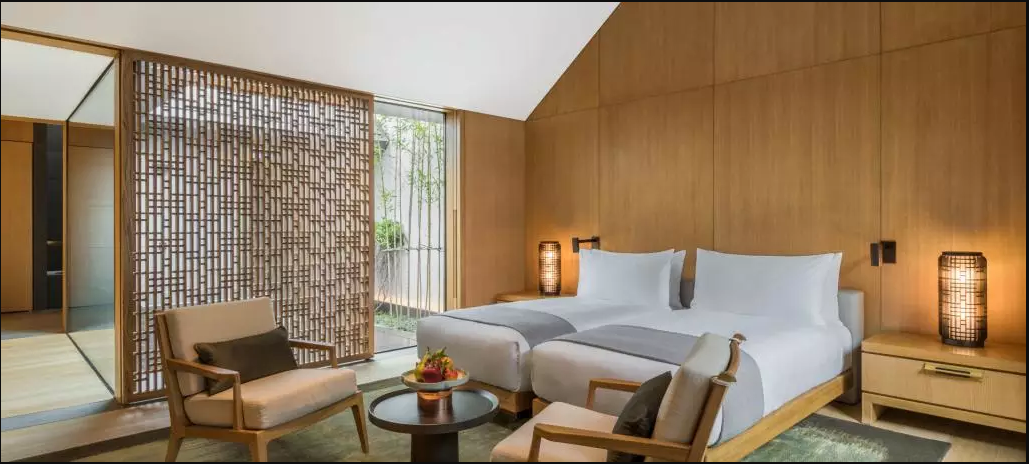 Amanyangyun has two suite style accommodations, the main courtyard new wing and the antique villa wing. The courtyard suites are modern designed rooms that blend traditional woodwork with modern style and decor. The antique villas, lovingly restored, offer a unique opportunity to reside in centuries old rooms. The villas have been elevated to rival any modern luxury, while keeping the core of the traditional architecture intact. Aman is legendary for its wellness centers, and once again Amanyangyun sets a new standard in the Chinese luxury hotel market. Featuring one of the largest spas in Shanghai, the Wellness Center at Amanyangyun blends cutting edge wellness techniques with traditional Chinese medicine practices, bringing a unique suite of wellness and health offerings. Enjoy herbal tea in the Tea Lounge, or bath in one of the traditional bathing rooms, or settle in for an elegant massage, the Wellness Center at Amanyangyun is sure to have it all.
While Amanyangyun brings Chinese culture to life in this hotel, they don't forget to showcase other cultures as well. For dining, the hotel offers five different dining locations from al fresco style Italian food, to premium Japanese fine dining. Cap the night off at the Cigar Lounge with exquisite cigars and featured cocktails.